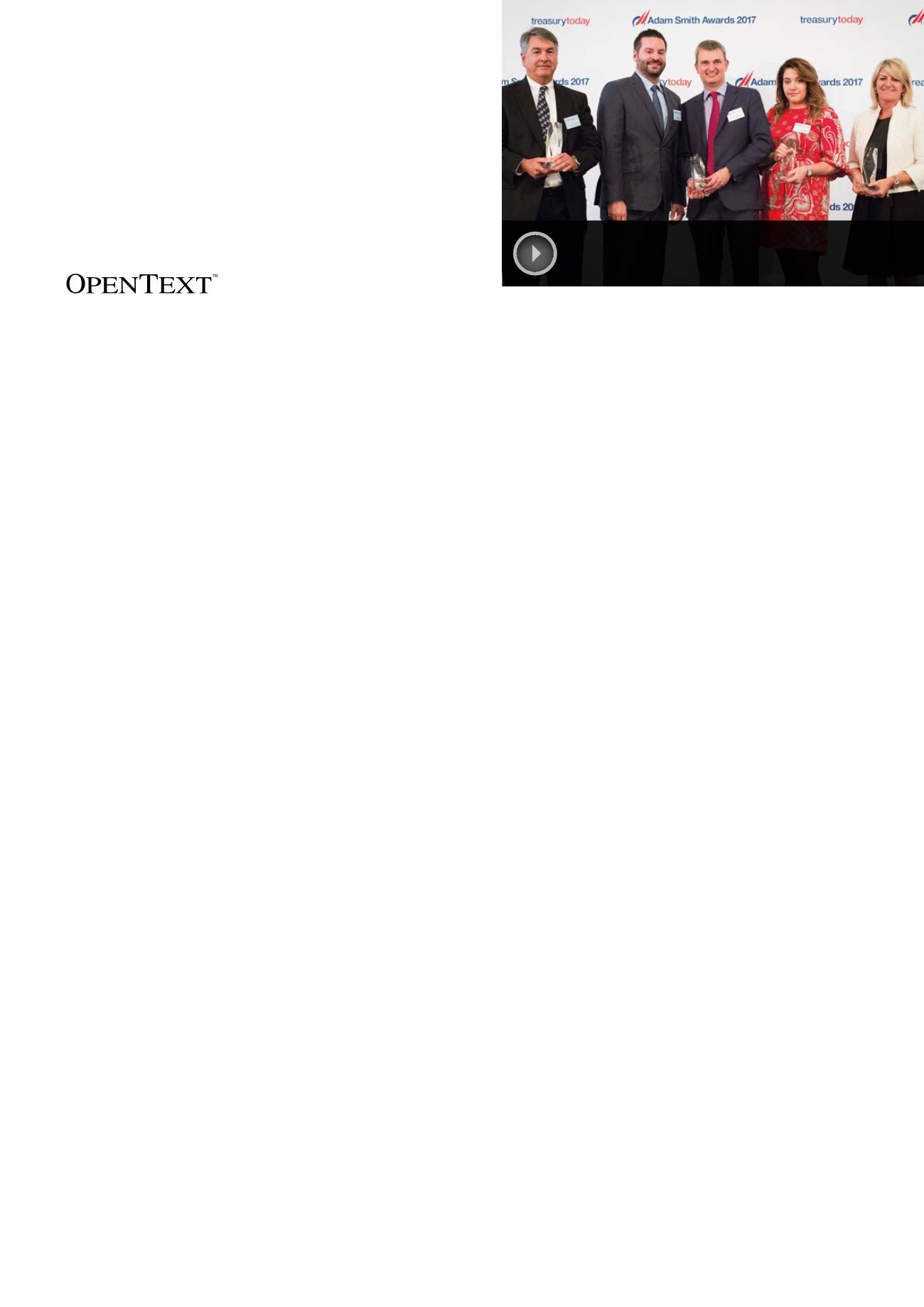 Treasury transformation on a grand scale
Company profile
Open Text is a global leader in Enterprise Information Management (EIM). Growing rapidly since it was founded in
1991, it has deployed approximately US$6.2bn of capital and completed 56 acquisitions. Total annual revenue has
grown over the past 20 years from approximately US$10m to about US$1.8bn today.
The challenge
Open Text was approaching 400 group bank accounts with 92 banks
across 35 countries covering 122 entities. On average, it had five
banks per country (except in the USA where there were 16 banks) and
four accounts per bank. This created a number of challenges.
On an administration front, it presented issues around bank access,
opening, closing and amending accounts, people changes, signatory
management, and banking services and system connections. In
addition, it was facing significant KYC demands and was clearly not
able to leverage banking systems to their full extent.
The time and resources available to manage the busy function were
found to be lacking. Treasury was running the risk of inefficient
processes, especially around payments (it was running multiple systems)
and investments (where there was no liquidity pooling capability).
Treasury woes did not end here. It also had to endure a lack of
visibility and transparency around key data sources, and was facing a
higher risk of security breaches and potential fraud. On top of this,
the structure and disparate nature of its systems were simply
becoming too expensive to maintain.
"We had an unsustainable banking network and historically, most of
our acquisitions were not fully integrated into the global treasury
centre in Canada," said Jonathan Burkhead, Director Global Treasury.
Moreover, the treasury centre lacked the resources required to
manage the scale and complexity of transactions, he added.
"We reached a tipping point with the acquisition of GXS; something
had to change."
A benchmarking report prepared by Citi, positioning Open Text
relative to its peers, indicated the extent of its problems but also
highlighted key openings for improvement. Indeed, an opportunity
was identified to implement an efficient and integrated banking
network. This would enable the firm to consolidate its banking
network to five primary relationship banks and take a similar stance in
the consolidation of its bank accounts. Across this significantly
simplified set-up it would be able to implement strategic and efficient
cash management and liquidity structures, notably with the addition
of a cash pooling facility.
The solution
Between January 2016 and April 2017, Open Text achieved a
remarkable turnaround of its treasury function. In terms of its bank
account activities, it managed to open resident/non-resident bank
accounts in each country in scope. Across EMEA, NA and APAC, it
opened 116 new strategic bank accounts and set up delivery of bank
statements for all new accounts daily in current BAI or
MT940 formats.
Open Text has developed H2H (host-to-host) connectivity with three
strategic banks through the TMS and through Open Text Managed
Services. Open Text offers treasury products and services to third
party customers that the treasury team was able to utilize. The team
also determined the availability of accounts on payment processing
platforms in each country in scope and ensured appropriate solutions
were in place for incoming/outgoing payments. The company further
implemented best practices where opportunities permitted, for
example opting for electronic over paper payments and collections.
Although having largely transitioned transactions from old accounts to
new, Open Text says this is ongoing. Transitioning the activity is
dependent upon the operating groups of AR, PR and AP as they work
with vendors and customers to make system changes, for example
updating remit to information on their end.
Understandably, electronic bank services have been the subject of
intense focus for Open Text, with the delivery of bank statements and
liquidity reports through Open Text Managed Services connectivity.
In addition, processing of payroll, treasury, accounts payable, and tax
payments in ISO XML format for all countries has been provisioned,
although this is ongoing in some countries.
Liquidity overlay services have been radically revised, with Open Text
identifying pooling structures for multi-currency and multi-entity.
With three new pooling structures established, the firm has set up
the domestic sweep of funds to header accounts by currency and
provisioned for the cross border sweeping of funds to header
accounts, as required.
In addition, the team identified impacts from intercompany pooling
transactions from an FX perspective and executed appropriate loan
and pooling agreements for intercompany lending and
borrowing relationships.
Direct debit and SEPA direct debit payments/collections also came
under the microscope. Treasury identified current users and either
cancelled or set them up on new accounts. It also established
appropriate blocks, filters and mandates where available and rolled
out a new direct debits policy globally. In moving transactions to new
accounts, it managed to significantly reduce the number of
challenging direct debits by vendors that had existed for some time.
HIGHLY COMMENDED WINNER
Treasury Today's Top Treasury Team
Open Text Corporation
Jonathan Burkhead, Director Global Treasury
Darlene Halliwell, Project Manager
Jonathan Burkhead and Brian Leibforth, Open Text Corporation, Simon Jones,
J.P. Morgan, Paula McCool, Citi and Lesley White, Bank of America Merrill Lynch
Winner video interview
treasurytoday
Adam Smith Awards © August 2017 | 7