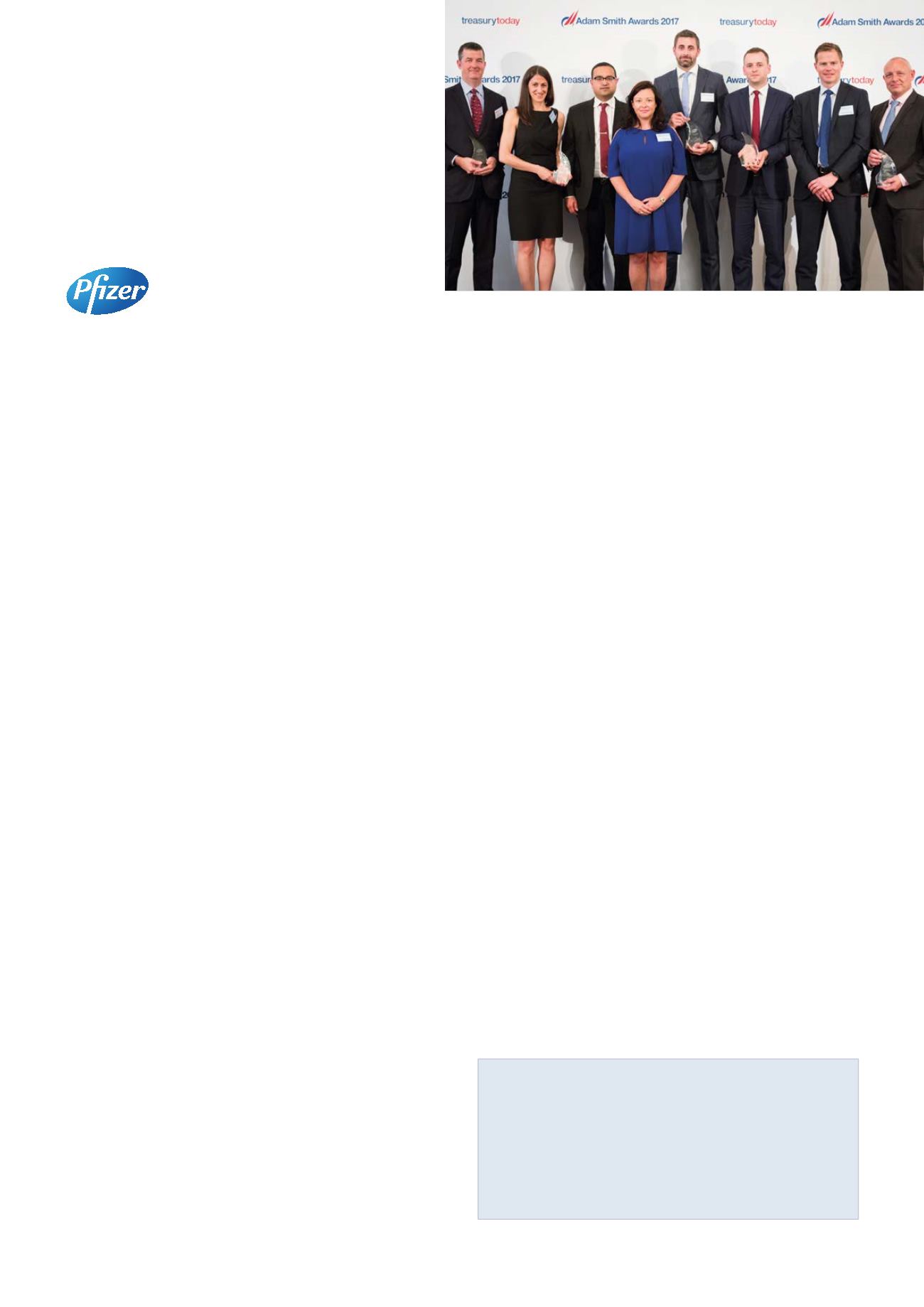 OVERALL WINNER
Best Working Capital
Management Solution
Pfizer Inc.
New York, US
Working Capital Team
Improved cash conversion cycle feeds straight through to bottom line
Company profile
Pfizer Inc. is a research-based global biopharmaceutical company. The company is engaged in the discovery,
development and manufacture of healthcare products. Its global portfolio includes medicines and vaccines, as well
as consumer healthcare products. As of 31
st
December 2016, the company sold its products in over 125 countries.
The challenge
To identify opportunities to improve the cash conversion cycle (CCC)
and cash flow generation without adversely impacting the income
statement. With an increasingly challenging operating environment,
Pfizer saw an opportunity to increase its focus on working capital
management (WCM) and to improve cash flow generation in parallel
with a continued focus on P&L.
In an effort to determine a baseline, Pfizer conducted a benchmarking
analysis on working capital metrics across the biopharmaceutical
space, which compared Pfizer against several of its large-cap peers.
A team, sponsored by its CFO and led by corporate treasury,
was mobilised.
The solution
Pfizer established five workstreams to focus on the key areas within
WCM. Each of the workstreams brainstormed actions and solutions
for their respective areas, prioritising those initiatives with a focus on
maximising improvement to the CCC and/or improving cash flow
generation (noting that the VAT and other working capital
workstreams do not directly impact the CCC calculation).
•
Accounts receivable:
Pfizer moved from fourth quartile versus its
peers to first quartile between 2010 and 2016 in an adverse mix
environment. This substantial improvement is directly attributable
to operational improvements on collections and terms. Pfizer
implemented best in class collections practices across the world,
including Europe where pharmaceutical companies have faced
challenges due to the financial crisis. The team proactively
partnered with governments and hospitals in order to ensure past
due, receivables were collected from these markets.
•
Accounts payable:
improvements to their DPO were made
possible due to:

Improvement of supplier payment terms.

Shift of payment trigger from invoice date to receipt date.

Reduction in payment-run frequencies.

Availability of operating data and metrics due to rollout of a
global SAP.

Implementation of a treasury-led supply chain financing
programme, which benefits both Pfizer and its suppliers.
•
Inventory:
Pfizer Global Supply (PGS) established and continues
inventory optimisation initiatives across the supply chain, making
improvements to its gross inventory balance. The focus ranges
from procured raw materials at manufacturing facilities all the way
through to finished goods. In addition, PGS implemented
organisation and process change enabling end-to-end supply
chain orchestration for all of Pfizer's major brands. All of Pfizer's
supply chain processes are built upon its growing SAP footprint
and are "aimed at ensuring the right product, in the right place, at
the right time and at the right cost for the patient," explains Keenan.
•
Value-added tax and other working capital:
Pfizer has been
optimising other areas of the balance sheet including indirect taxes/
VAT, prepaids, non-trade receivables, rebates and accruals.
Initiatives implemented by the company that resulted in the
improvement include, but are not limited to, recovery of VAT
receivables from international markets, reduction of prepaids globally
and improved collections of non-trade receivables and rebates.
Best practice and innovation
The project management team compiles and distributes a monthly
dashboard to finance leadership which monitors various working
capital key performance indicators (KPIs) to ensure they
are improving.
Pfizer's inventory workstream uses several systems including the
Global Market Exchange (GMX) system to analyse SKU-based
inventory pricing, SAP Business Insights to review brand specific
demand and supply analytics and Tableau for data visualisation on their
supply chain performance. Any key business decisions that could have
implications on working capital are considered before being finalised.
Key benefits
•
Improved the CCC by 25.2 days to 77.1 days from 102.2
days (from 2010 to 2016).
•
Generated approximately US$1.5bn of incremental cash
flow in 2016.
•
P&L benefits.
Roger Fleischmann, J.P. Morgan, Beth Blumenfeld, Arijit Dasgupta and Sylvia Malone, Pfizer,
Steven Elms, Citi, Chris Jameson, Bank of America Merrill Lynch, Simon Knightbridge, Pfizer
and Steve Payne, EY
10 |
treasurytoday
Adam Smith Awards © August 2017