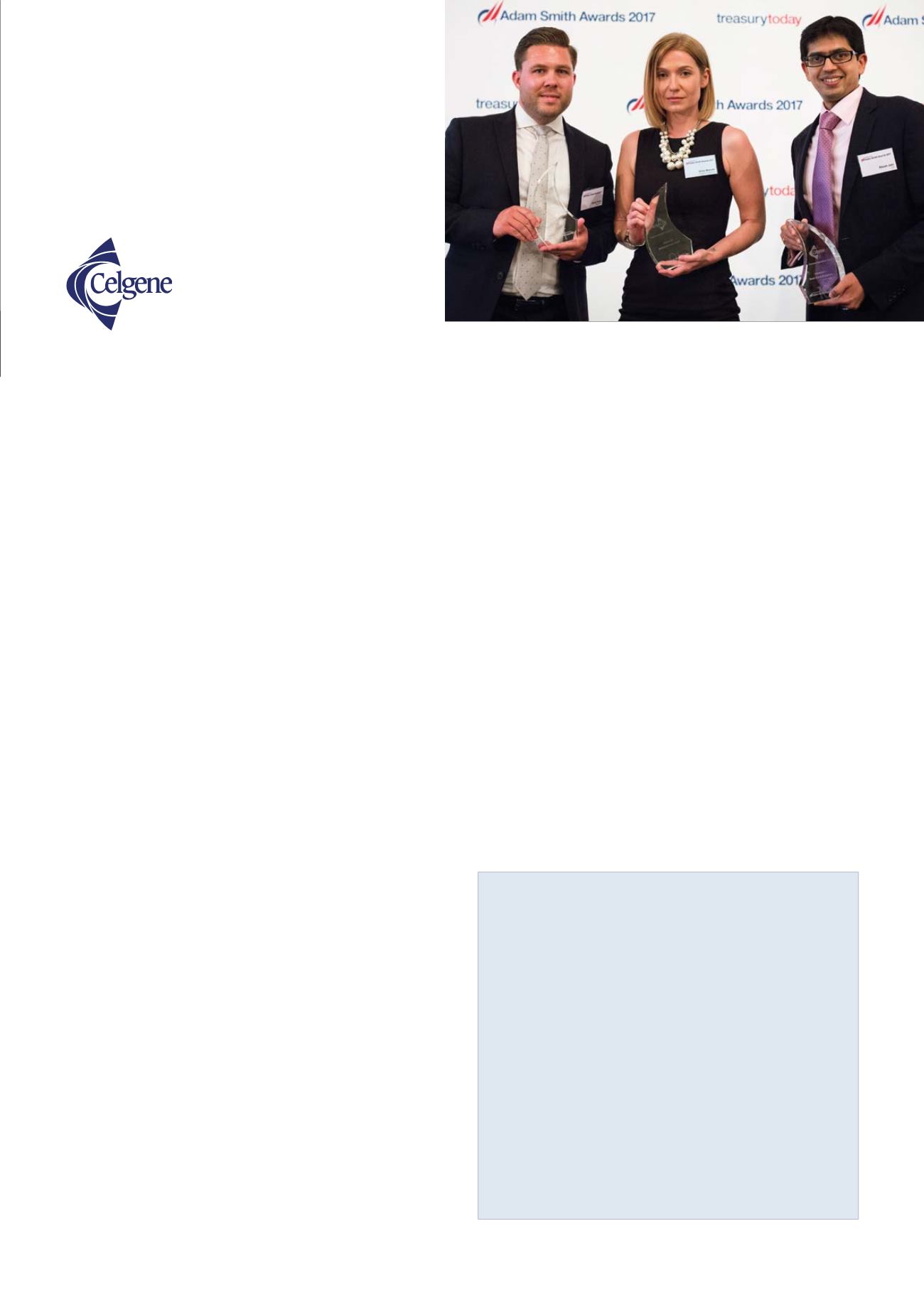 OVERALL WINNER
Best Card Solution
Celgene
Boudry, Switzerland
Anna Bianchi, Associate Manager, T&E
Physical card is obsolete with this solution
Company profile
Celgene is a leading pharmaceuticals company that operates in more than 34 countries worldwide.
The challenge
Supplier payments was an area that was ripe for innovation –
Celgene's suppliers were increasingly requesting early or upfront
payments. In order to meet these requests, Celgene was required to
process payments immediately, thereby directly impacting its working
capital position. The team at Celgene laid down the
following objectives:
•
Working capital optimisation:
while early payment to suppliers
was a business need, Celgene wanted a solution that would
preserve or improve its working capital position. Early payments
and working capital optimisation may seem like a dichotomy – but
the team challenged themselves to achieve both these
objectives simultaneously.
•
Simple enrolment and management:
the team at Celgene
wanted to ensure that the early payment programme remained
simple for suppliers to enrol without any complex legal
documentation or technical integration. Similarly, it must also be
simple for Celgene to manage.
•
Frictionless experience:
the payment processes at Celgene had
been refined over many years. There was no room to introduce
any inefficiency in the payment process. Therefore, it was
essential that the new payment programme should be frictionless
– from order-to-reconciliation – to allow for efficient and early
payment to suppliers.
•
Cost:
it was paramount that the new payment programme should
not increase costs for Celgene. Therefore, the early payment
programme should not be expensive to build or run.
The solution
An overview of how the solution works:
1. Suppliers send electronic invoices through the Basware Network
which becomes available to Celgene in real-time.
2. Celgene applies business rules to approve/reject invoices and
allocate them to appropriate expense lines within Basware.
3. For every approved invoice, Basware sends a request to Citi to
create a virtual card via an API.
4. Citi validates the request and creates a virtual card for that Invoice
in real-time. This virtual card is a single-use card account with
highly specific controls. Virtual Card details are sent back to
Basware via an API message, again in real-time.
5. The card is automatically charged on behalf of suppliers in
real-time, providing instantaneous confirmation. Suppliers
receive funds directly in their bank accounts within two to three
days without any further action from their side, along with rich
remittance data.
6. A fully reconciled transaction file is generated and sent to
Celgene's ERP system to post accounting entries.
7. Celgene makes a single monthly payment to Citi to clear
card outstanding.
Best practice and innovation
•
Use of application programming interfaces (APIs).
•
Payments no longer confined to ERP – this solution breaks that
convention by plugging the payment channel into an e-invoicing
platform. Fundamentally, this can have a profound impact for the
entire industry as people start realising the benefit of initiating the
payment where it creates best value and not necessarily through
their ERP systems.
•
Security and simplicity.
Key benefits
To Celgene:
•
DPO improved.
•
Working capital enhanced.
•
Zero-cost solution.
•
Process efficiencies.
•
Visibility.
•
Security and control.
To Celgene's suppliers:
•
DSO improved.
•
Compliance cost benefits.
•
No POS terminals needed.
•
Rich remittance data provided.
•
Real-time visibility.
David Reidy, Basware, Anna Bianchi, Celgene and Ritesh Jain, Citi
treasurytoday
Adam Smith Awards © August 2017 | 13