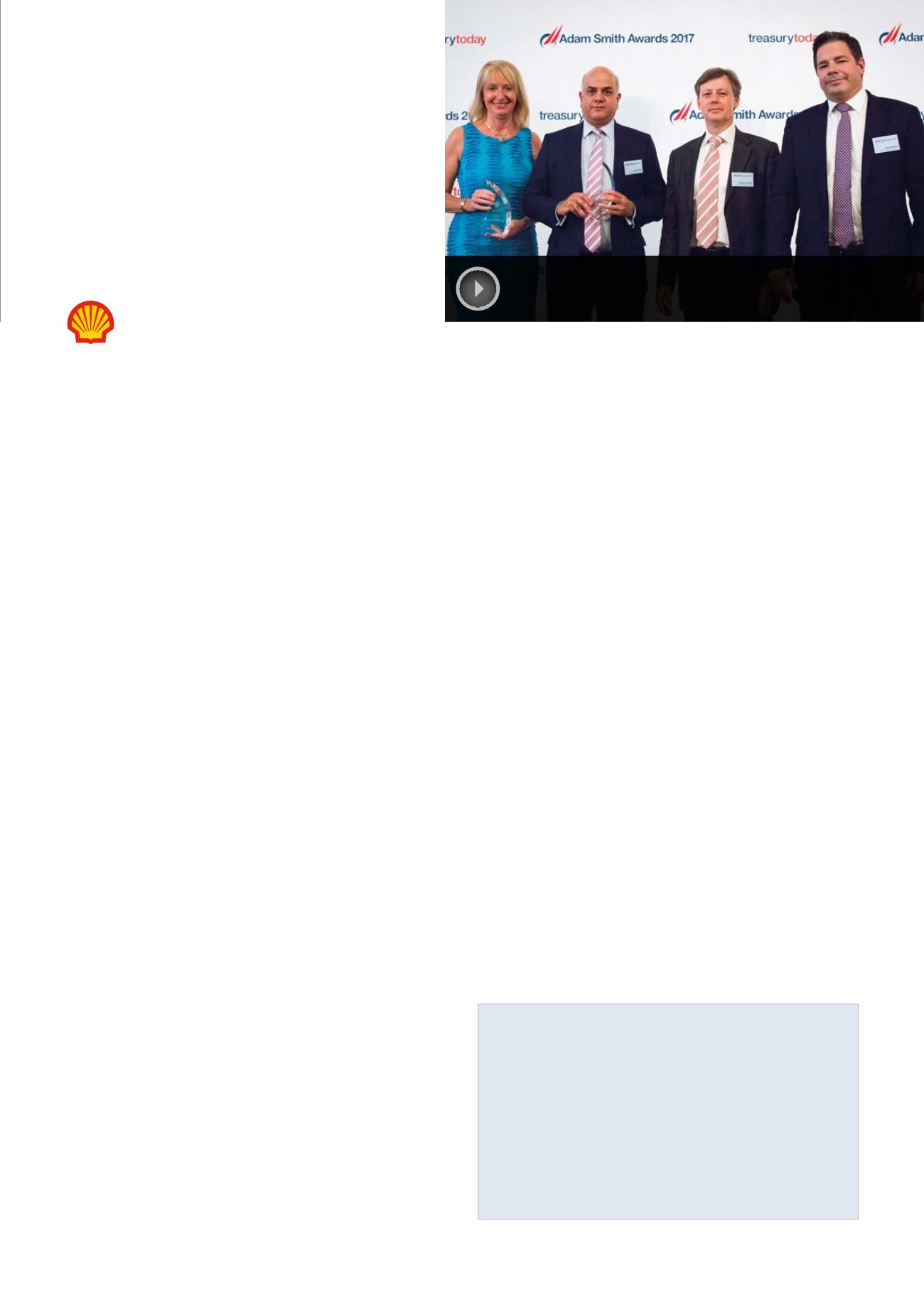 OVERALL WINNER
First Class
Relationship Management
Shell Treasury Centre Ltd
London, UK
Darsh Johal, Head of Global Cash Management
Stuart Madell, Cash Manager
Roland Peppink, Senior Project Manager
How would you respond if your bank informed you they are exiting the business?
Company profile
Royal Dutch Shell plc is an Anglo-Dutch multinational oil and gas company headquartered in the Netherlands and
incorporated in the United Kingdom. It is one of the world's leading oil and gas companies and among the largest
companies in any sector globally. It operates in over 70 countries worldwide, has approximately 92,000 employees
and produces 3.7m barrels of oil equivalent every day.
The challenge
Royal Bank of Scotland (RBS) was Shell's primary cash management
bank for Western Europe and its main currency bank for CHF, EUR
and GBP.
In early 2015, Shell initiated a request for proposal (RFP) process for its
cash management business in Western Europe. It was about to hear
pitches from eight shortlisted banks at the request for information (RFI)
stage when RBS announced plans to wind down its international cash
management business. RBS's deadline to close customers' accounts
and operations across the region was the end of 2016.
Shell needed a bank to help it manage a smooth transition of a large
range of mature operational processes – across its business, treasury
and IT landscape – in a short space of time.
As Darsh Johal, Head of Global Cash Management explains, "We
decided on a like-for-like replacement; our selection criteria was speed
of delivery, reach and capability, a clear legal framework, robust and
reliable operations and service model, and the ability to migrate existing
payments in Germany to a SEPA card clearing solution."
The solution
The number one priority for the project team was to manage the
transition on time and maintain the high level of operational and
process performance to minimise any business impact. The scale of
the project combined with the extremely tight deadline, encompassed
numerous challenges:
•
The mandate covered 16 countries.
Johal recalls, "A total of 350 bank accounts were opened,
necessitating over 200 KYC documents."
•
Cash management services for 250 Shell businesses in Western
Europe also had to migrate from RBS within just 18 months.
•
The project covered a wide range of payment and collection
instruments given its geographical scope and Shell's client base.
•
Each payment and collection instrument had to be assessed to
understand the implications of migration.
•
The countries in scope used 14 different ERP systems, each
requiring specific re-configuration, testing and deployment plans.
There were in excess of 2,400 test scenarios.
•
The solution also includes a regional zero-balancing liquidity
structure for the major currencies – EUR, GBP and CHF – with
over 300 sweeps activated.
•
Shell had 37 payroll payment solutions throughout the region.
It was critical that payment runs were closely monitored during
migration to ensure all staff continued to be paid on time.
•
Migration of Shell's SEPA card clearing solution in Germany which
supports millions of transactions annually.
•
Over 100,000 direct debit customers were migrated by Shell's
downstream business, having millions of transactions with a
multi-billion dollar value.
Best practice and innovation
This project centres on the first class relationship between Shell and
its bank which is emphasised by the manner in which the project was
planned, resourced and executed. Many aspects are now part of
Citi's best practice template for client implementations.
There were over 350 staff at Shell and 68 project team members in
Citi involved in the project.
Shell's Tim Ford, VP Offer to Cash, comments, "This is a great example
of collaboration within Shell and with Citi. It's great to see a major project
deliver on time whilst maintaining a focus on operational excellence."
Key benefits
•
The greatest benefit is that the project was completed
according to plan and with minimal disruption to
the business.
•
The solution met all the project objectives – all bank
accounts, payments and collections for every business
were migrated according to the original schedule –
and within budget.
•
All 29 phases successfully achieved each of Shell's
scheduled go-live dates.
Barbara Harrison, Citi, Darsh Johal, Roland Peppink and Stuart Madell, Shell Treasury Centre Ltd
Winner video interview
treasurytoday
Adam Smith Awards © August 2017 | 11