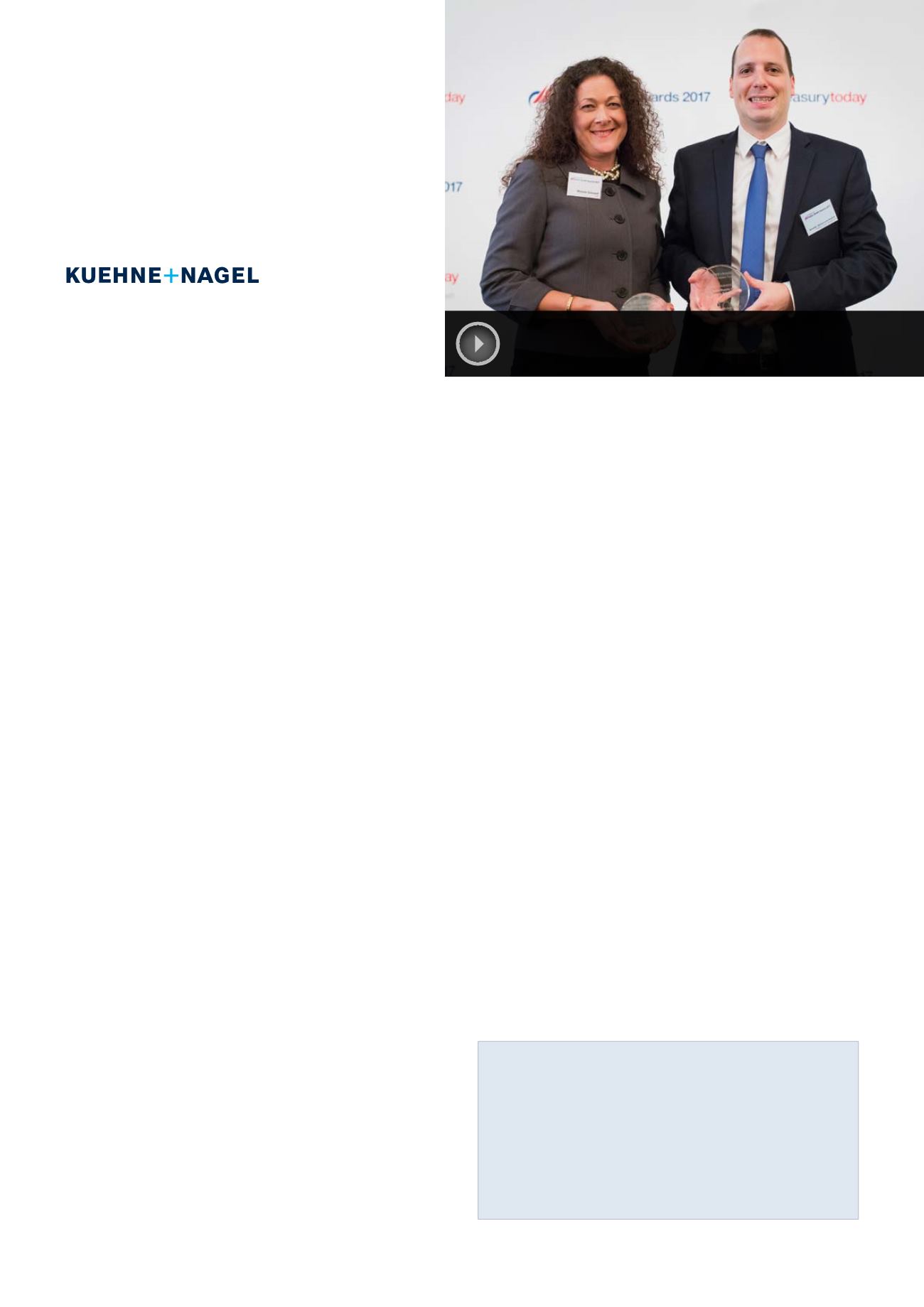 HIGHLY COMMENDED WINNER
Best Trade/Supply Chain
Finance Solution
Kuehne + Nagel
Schindellegi, Switzerland
Roger Sutter, Group Treasurer
E-invoicing platform offers early payment option
Company profile
Since 1890, when the business was founded in Bremen, Germany by August Kuehne and Friedrich Nagel, Kuehne + Nagel
has grown into one of the world's leading logistics providers. Today, the Kuehne + Nagel Group has some 1,300 offices in
more than 100 countries, with over 70,000 employees.
The challenge
Kuehne + Nagel (KN) wanted to provide its suppliers with an early
payment solution without having suppliers or KN to connect to
different platforms. The existing e-invoicing platform was extended
with an early payment option with the following objectives:
•
One platform for invoicing and receivable purchase activities.
•
Efficient on-boarding.
•
Possibility for payment within a few days.
•
Full invoice status transparency to suppliers.
•
Possibility for full ERP integration on KN and supplier side.
•
Multi-bank possibility for financing of receivable
purchase activities.
•
Attractive financing rates.
•
Global solution.
The solution
KN is moving from paper to electronic invoices and handles purchase
orders with auto-matching functionality in the ERP, allowing fast and
efficient invoice handling and approval processes.
Roger Sutter, Group Treasurer explains, "Together with our
e-invoicing partner, Tradeshift, and our key relationship bank, Citi, we
developed a fully integrated, one channel, seamless straight through
invoice-to-cash platform. It is complemented with an accelerated
supplier payment feature in the form of a receivable purchase option."
This solution allows a supplier to raise an invoice electronically online
and to receive payment as early as within three days when
participating in the receivables purchase programme. Suppliers can
monitor the status of the invoice and on the same website interface all
necessary details related to the early payment (eg payment date,
discount fee, etc) into the supplier's ERP. Roger Sutter says, "We
created for our suppliers an integrated website for all invoicing and
receivable purchase activities and have this now live in our key
markets in Europe and North America – a total of 14 countries."
Best practice and innovation
This innovative platform for invoice-to-cash cycle (including ERP
connectivity) integrates KN's e-invoicing and banking providers on a
single platform. Each party ensured that best practices in their area
of expertise is being followed, creating this unique solution. This
innovation links an e-invoicing platform to a key financial partner to
deliver a seamless technically integrated omni-global connectivity
channel for suppliers.
Harnessing new technology and capitalising on the global footprint of
KN, both the banking and the e-invoicing partner have significantly
improved the invoice-to-cash cycle for KN's suppliers and ensure fast
invoice payment for those suppliers who participate in the receivables
purchase programme.
An intuitive on-boarding website facilitates the receivable purchase
solution, including chat functionality with the bank and access to
marketing and on-boarding documentation.
This innovative solution allowed KN to negotiate attractive financing
rates for the benefit of its suppliers.
Roger Sutter concludes, "In collaboration with our key partners we
significantly improve our suppliers' cash cycle, allow efficient
invoice-to-cash processing through one platform and create working
capital benefits for all participants."
Key benefits
•
Single platform with full technical integration.
•
Significant efficiency gains.
•
Significant working capital improvement.
•
250+ suppliers now on board.
•
Global availability of the solution.
Melanie Girouard, Citi and Benedikt Zimmermann-Kuehne, Kuehne + Nagel
Winner video interview
12 |
treasurytoday
Adam Smith Awards © August 2017