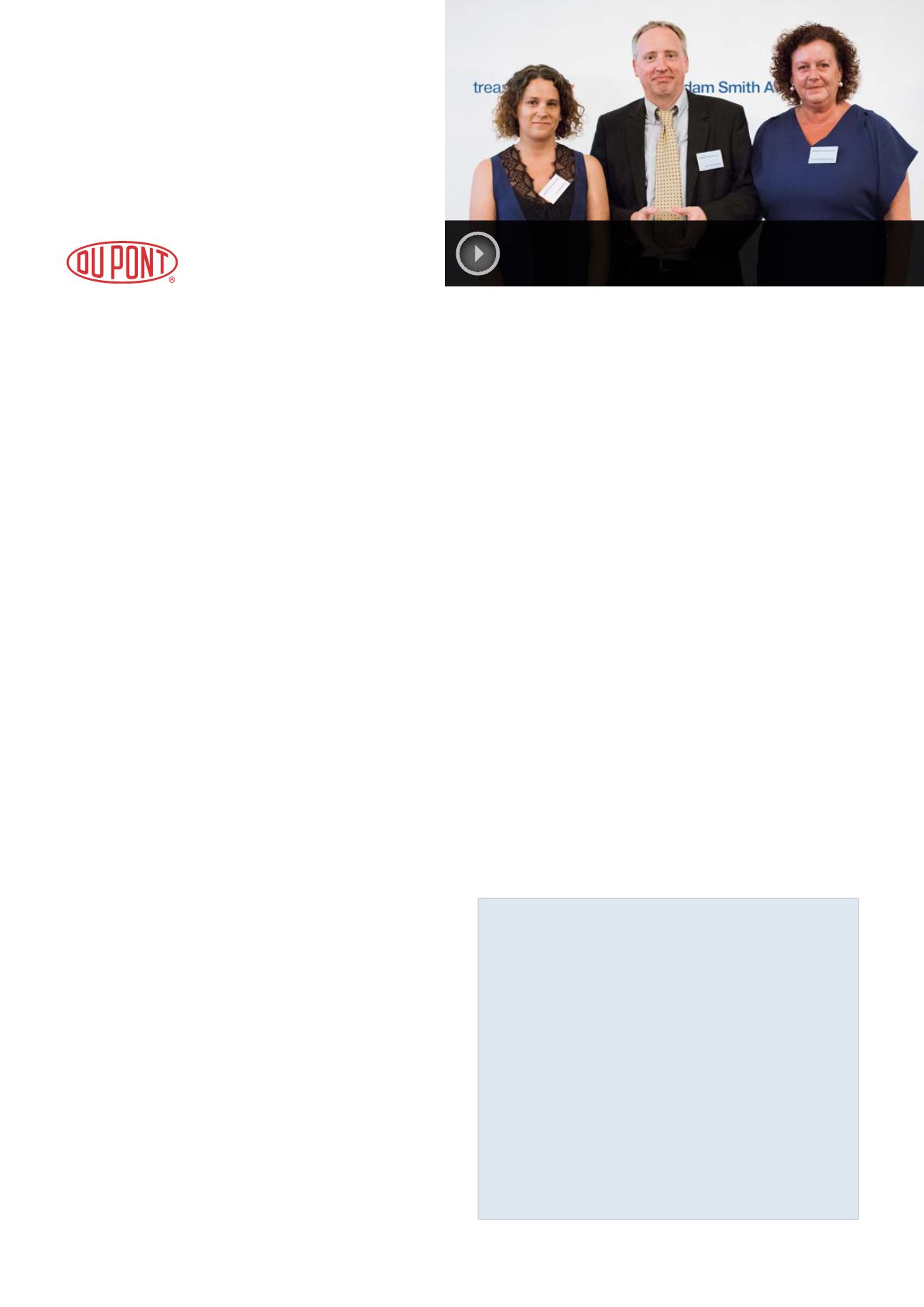 HIGHLY COMMENDED WINNER
Best Card Solution
DuPont Sourcing & Logistics
Delaware, US
Kelly Moyer, Improvement Leader
Global best practice with this card solution
Company profile
DuPont is a science company dedicated to solving challenging global problems, while creating measurable and
meaningful value for its customers, employees and shareholders. Our dynamic portfolio of products, materials and
services meets the ever-changing market needs of diverse industries in more than 90 countries.
The challenge
DuPont had limited oversight of its total global card spend because it
used 16 different card providers. Although DuPont met with all of its'
providers on a regular basis, understanding and managing
programme aspects like spend trends, multiple contractual
relationships and inconsistent policies was very challenging.
Furthermore, by not having its spend consolidated, DuPont was not
able to realise its' maximum rebate potential. These inefficiencies
created an opportunity for improvement. The firm's existing card
providers had less than desired levels of card acceptance in some
markets. As a result – and also due to poor expenses policy
compliance – the company had a high level of out-of-pocket spend.
Its use of multiple card programmes and expenses methodologies
made administration time consuming, cumbersome and inefficient.
Moreover, as a result of using multiple card programmes, DuPont was
making credit card payments throughout the month, affecting
working capital efficiency.
The solution
Following an RFP process, DuPont appointed Citi as its sole global
card provider, providing corporate and purchase cards programmes
across more than 50 countries based on a single global contract with
standardised terms and liability model.
Adopting a One Card Corporate Bill/Corporate Pay Model while new
to many DuPont legal entities was not new in it's entirety and thus
created another opportunity to standardise globally.
At the same time, DuPont created a centralised Programme
Administration team based at a shared service centre to reduce and
even potentially eliminate the work needed to be done by local PAs.
Other elements of the solution include the use of local currency cards
wherever possible, issuance of cards with widespread merchant
acceptance, standardised and rationalised file feeds, and
standardised card programme management and reporting.
Best practice and innovation
DuPont has shown great determination in migrating 16 different card
providers, a variety of billing and liability models to a single
programme. Add to it a unified travel and expenses policy and
consistent global standards and it becomes clear that the company is
focused on achieving global best practice.
Best practice and innovation are also demonstrated in the various
steps DuPont has taken in order to realise its ambitious objectives to
replace cards for 26,000 employees working at 250 legal entities in
50 countries. These steps include:
•
The establishment of a strong partnership and a clear dialogue
between the DuPont and Citi project managers and regional
leads during implementation.
•
A DuPont pioneer pilot phase with an eight-week rollout, including
card issuance and file feeds, covering 23 entities in 13 countries.
DuPont Pioneer was selected as one of the few DuPont entities
that already used a centrally-billed and paid model: it was
therefore a more useful test of the technical aspects of the
implementation project.
•
Implementation of DuPont's businesses worldwide executed on a
regional and expense reporting system-basis; the entire project
took approximately one year from mandating to completion.
•
Winning the buy-in of the organisation worldwide. From the
beginning of the project, DuPont secured support from the
highest management levels, involving the marketing and
communications departments, in order to build momentum and
acceptance of the changes.
Key benefits
•
Gains features and benefits of purchasing, corporate and
other cards in one programme.
•
Global view of its card programme with rich
reporting capabilities.
•
Cardholder support and convenience have been
greatly enhanced.
•
Standardised worldwide card solution creates
optimisation opportunity through policy adjustments.
•
Risk reduction while improving policy compliance and
working capital efficiency.
•
Central back office team frees up local teams and
administrators to focus on value-added tasks.
•
Standardised statement and pay dates gives further
working capital savings.
The DuPont Oval Logo is a trademark of DuPont or its affiliates.
Elsa Belperche, Citi, Jean-Paul Vanherf and Josette Vandenhouten, DuPont Sourcing
& Logistics
Winner video interview
14 |
treasurytoday
Adam Smith Awards © August 2017