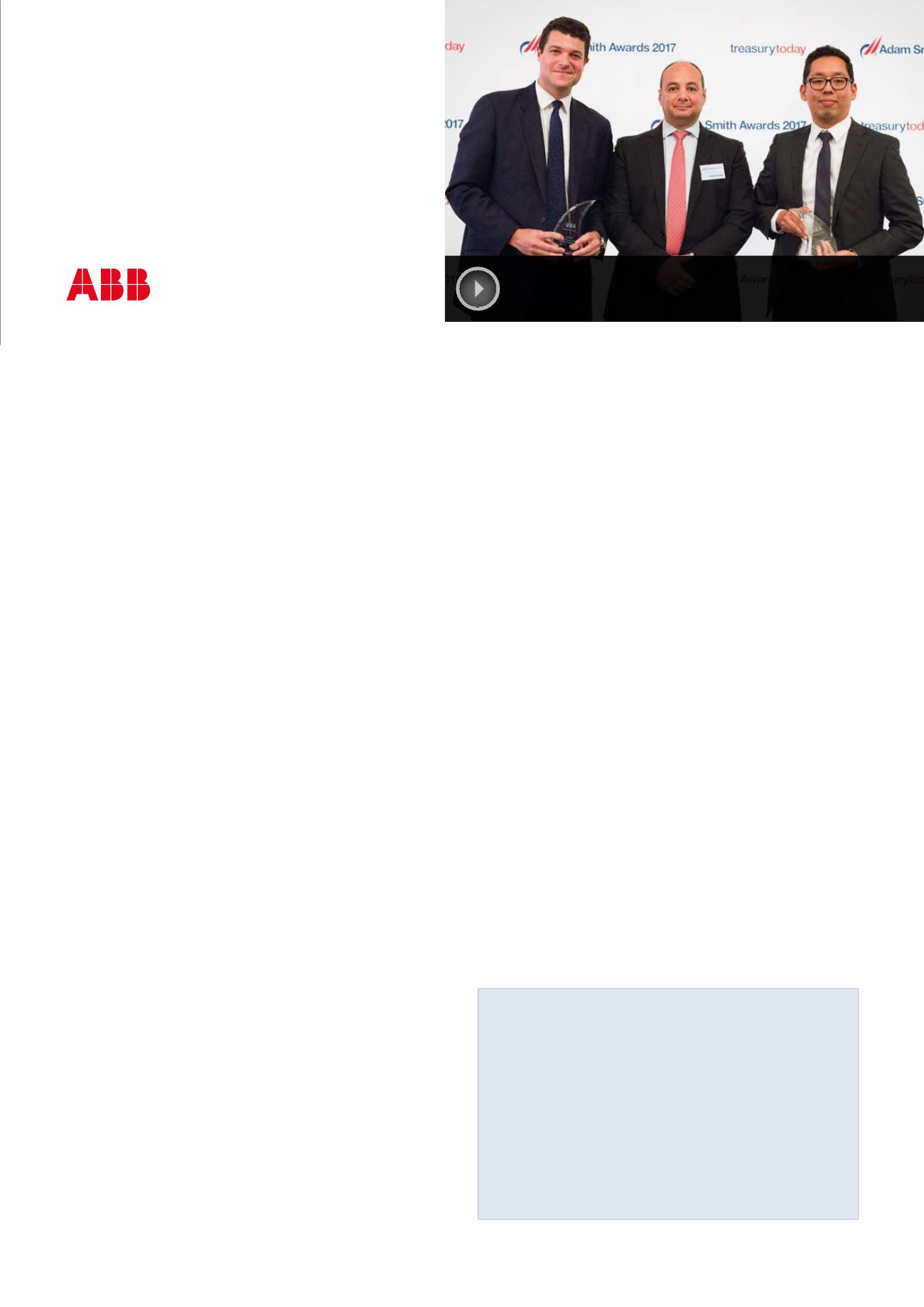 OVERALL WINNER
Best in Class Treasury
Solution in Africa
ABB South Africa (Pty) Ltd
Modderfontein, South Africa
Andreas Krause, CFO
ABB implements solution in 13 countries across Africa
Company profile
ABB is a pioneering technology leader that works closely with utility, industry, transport and infrastructure customers
in roughly 100 countries. With more than four decades at the forefront of digital technologies, it is a leader in digitally
connected and enabled industrial equipment and systems with an installed base of more than 70,000 control systems
connecting 70m devices.
The challenge
ABB had four key challenges:
•
Enhancing regional liquidity management, optimising working
capital, consolidating risk exposure across banks and markets as
well as achieving operational efficiency and control through a
centralised treasury structure. Fundamental to the first objective
of ensuring optimal treasury management for ABB was improved
liquidity management and cash visibility over 13 African markets
where it had multiple banking relationships, numerous local and
foreign currency accounts and minimal governance over local
cash flows.
•
Improving working capital through unique and cost-effective
financing solutions.
•
Consolidating risk and exposure management through a holistic
treasury solution in Africa. A recurring theme for many multi-
national corporations over the past 12 months is reviewing
counterparty risk amongst banking partners in the region.
•
Achieving operational efficiency and control in its treasury
management across the region.
The solution
ABB adopted Citi's domestic cash management solution to effectively
aggregate single-entity cash balances for ABB South Africa (Pty) Ltd
accounts in South Africa – these consolidated funds are pooled to a
central header account via an automated, end-of-day target
balancing mechanism. To ensure end-to-end visibility, ABB is fully
integrated with CitiDirect BE to allow for real-time oversight.
Andreas Krause, CFO explains, "We replicated the supply chain finance
solution that was rolled out in Brazil, China and Thailand for South
Africa which was sourced at a market-leading rate to support financing
for 56 key suppliers that are currently on the local programme."
Citi was a natural fit for ABB as a core relationship bank globally
through over US$1.6bn of committed credit facilities and maintaining
a stable investment-grade credit rating in Africa. Through Citi's
pan-African footprint, globally-standardised banking platform and
superior balance sheet capacity, it was able to serve as ABB's core
banking partner in the region. This resulted in a significant reduction
of bank accounts and relationships as well as optimising transactional
pricing and connectivity for ABB which translated into US$48,000 in
estimated cost savings.
ABB integrated its transactional banking across 13 markets into one
centralised payment factory via a secure host-to-host channel that
accommodates multiple payment types in a standardised file format,
XML v3.
Best practice and innovation
Best practice is showcased in this deal by leveraging years of
knowledge and acquired expertise through ABB's global relationship
with Citi. This has resulted in an extensive understanding of how both
parties operate when it comes to product fit, implementation and
service delivery on a local, regional and global level. ABB was one of
Citi's first clients to leverage innovative technology such as the SAP
ERP integrator when setting up their host-to-host channel which built
off existing SAP capabilities and reduced the implementation
timeframe, thereby eliminating unnecessary technical costs, time and
allocation of resources.
Krause concludes, "Taking into account the variety of corporate
regulatory hurdles, the nascent development of payment infrastructure
and currency controls embedded in many African markets – for ABB
to have developed a regional treasury solution that is both compliant
with local regulations and efficient in servicing day-to-day business
requirements highlights the true value of this infrastructure."
Key benefits
•
Centralised visibility of funds.
•
Automation gains.
•
Modular and scalable ERP infrastructure.
•
Risk exposure reduced.
•
Bank relationships consolidated from over ten to a single
core bank.
•
Market leading rate in SCF programme backed by a
US$15m facility which supports 56 key local suppliers.
•
Technical implementation time reduced by around 60%.
Geoff Gursel, Citi, Hadi El-Amaary and Tenzing Bomratsang, ABB
Winner video interview
treasurytoday
Adam Smith Awards © August 2017 | 19