Take part in Traders Trophy contest!
Career, Citi Service Center, Citi Handlowy
This virtual contest will introduce you to the world of trading and will give you a chance to put your skills to a test.
Compete on-line with students from all over Europe, Middle East and Africa!
Feel like a real trader!
Reach the final round and win the main prize – a visit to the offices of Citi Handlowy in Warsaw. See how the experts in the field work!
 The Traders Trophy contest is open to students enrolled in any university program. Even students with basic knowledge of trading stand a chance of winning. Test yourself!
Visit www.traderstrophy.com and register now!
You can also find out more about the contest during our workshop at the Warsaw School of Economics (Al. Niepodległości 128, C building, room C-2c), from 15:20 to 16:50, or at WNE UW, ul. Długa 44/50, Auditorium C, from 15:00 to 16:30.
Apart from the contest, the meeting, conducted by an expert from Citi Handlowy, will be devoted to the secrets of the foreign exchange market. Come and join us!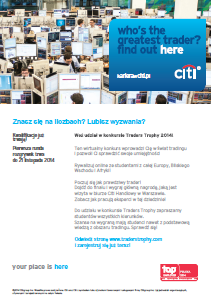 back