Diversity Week at Citi
Career, Citi Service Center, Citi Handlowy
Citi celebrated the Diversity Week during the last week of June. Our employees had the opportunity to take part in various events organized on that occasion under the theme "Bądź liderem. Dostrzeż nowe możliwości" (Be a Leader. See New Opportunities).

Monday, June 23rd, we held two workshops – one of them was related to prejudice in the workplace, and the other concerned the challenges in multi-cultural environment.
Tuesday, June 24th, we invited our employees to the Invisible Exhibition – we invited them to embark on an interactive journey in the invisible world where they could find out how to deal with everyday situation if you do not see.
Wednesday, June 25th, five women from five different countries told us what they liked and what they were surprised about in Poland. The meeting was organized by CitiWomen.
Thursday, June 26th, we organized a walk under the theme "Diver CITI Walk around the Warsaw" and showed the dynamics of life in Warsaw from the perspective of different cultures, religions, social groups over the recent years and today.
Friday, June 27th, the members of CitiClub talked about their passions during mini-fairs.
Friday afternoon, we went on a trip to explore Diverse Warsaw.
As part of the Diversity Week, we also organized a photo competition "DiverCITI". The contestants were to send in pictures that best showcase diversity in Warsaw. There was also a competition for kids on the theme "Homes Around the World".
You could find out more information on various initiatives at Citi in Poland at the CitiClub stands – you could ask about volleyball, basketball, football and tennis training, the rules of chess game and ...board games which turned out to be highly popular.
Friday afternoon, our employees went on a trip to explore Diverse Warsaw. We started from Senatorska street and we were looking for various interesting fun facts. Did you know, for example, that the first Polish shopping center was located right opposite the Bank's headquarters – at the place of the National Theatre? The construction was initiated by Queen Marysieńka (the wife of King Jan III Sobieski). "Marywil" hosted royal apartments, a chapel and shops.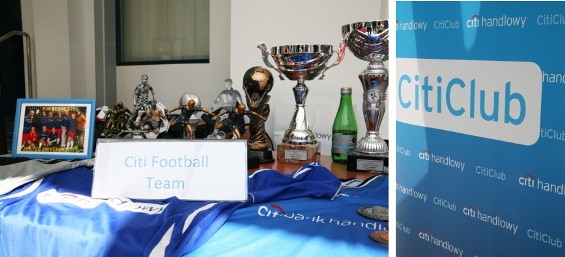 back