Learn about
Email Security
explore ways
to protect yourself
Learn to Spot Spoof Emails
Several signs can help you determine if an e-mail is legitimate or a spoof. Learn how to recognize and protect yourself from fraudulent e-mails.

Spoof e-mails (also known as phishing or hoax e-mails) appear to be from well-known companies. To bait you, an e-mail may say there's an urgent situation concerning your account, then ask you to click a link back to a spoof website to provide personal information.
Even if you don't supply any information, just selecting the link may enable thieves to access your computer, record your keystrokes, and capture your passwords.
Also, beware of spoof web forms that ask you to provide confidential information that a legitimate company would not ask the customer to enter for a particular transaction.
Sense of urgency — Messages claim your account will be closed or temporarily suspended, and warn you'll be charged if you don't respond.
Spelling errors — There may be obvious spelling errors, which help spoof e-mails avoid spam filters.

The best way to verify an email from us is to look for the Email Security Zone header.
Every Searscard.com email includes the last 4 digits of your card number.
We will never ask you for your PIN number and will never include your full account number in an email-only the last four digits.
If you receive an email claiming to be from us that includes your full account number, do not respond to it. Instead, forward it to spoof@citicorp.com.
How to Tell if a Sears Card Website is Valid and Secure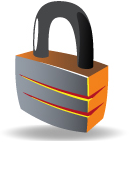 If you are directed from an email to a Sears card or other Citi website and want to know if the page is valid and complies with Citi security:
Check for a padlock or key image at the bottom of your browser window
Double-click the padlock to open the SSL (Secure Sockets Layer) Certificate
From the Details tab, choose Subject
Current information for the SSL certificate should appear.
The name Citigroup should display alongside the letter O (for Owner).
Can You Spot Online Fraud?

If you suspect that an email appearing to be from us is fraudulent, forward it immediately to spoof@citicorp.com. An Internet Security Specialist will investigate. If you have replied to an email with personal information, and now think the email was fraudulent, call us at the toll-free number on back of your card. We will issue a replacement.