Citi Perspectives Spring 2021 Series
The pandemic has proven to us that technology is more important than ever. The complex myriad of global trends combined with the impact of digitization has accelerated the need for finance and treasury professionals evolve new strategies to address their working capital, liquidity management and supply chain goals. In this edition of Citi Perspectives, we explore how companies are leveraging centralization and digitization at a time of crisis and top priorities for treasurers in 2021.
To obtain the latest edition of Citi Perspectives, please fill out the form below.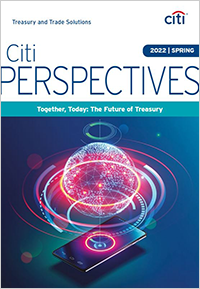 ---
Items marked with an * are required.