Citi Client Service Academy

Client Service Academy
Slip Sheet (English)
Asia Pacific Region
Welcome to the Asia Pac Region of Citi's Client Service Academy. In this series of proactive training sessions, we offer you the opportunity to enhance your knowledge of Citi's Electronic Banking Systems relevant to the structure, practices, and conventions applicable to the various countries located in the Asia Pacific region.
Academy Features:

All Client Academy sessions have a duration time of 45 minutes.
All training sessions are live and are hosted by a member of Citi's Electronic Banking Implementations team.
Academy Sessions are currently delivered in English only. Future sessions will have provision for local languages.
Using the link on the left hand side, Click on the Session Calendar to find out what training is on offer, select the one you want and then complete the registration page.
Please take a moment to review Citi Security Best Practices video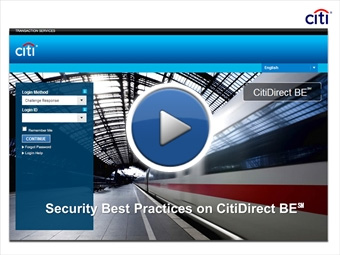 If you can't view the image above, please
click here
.
CitiDirect BE Quick Guides
This one-page guide quickly explains the login process

How to Log In
How to Reset Your Password




This PDF contains one-page instructions on making the following payments:

Payment Templates
Cross Border Fund Transfers
Domestic Fund Transfers
GIRO Payments
Check Payments




This 6-step guide details how to generate daily statements of accounts