Citi Client Service Academy - Western Europe
Please take a moment to review Citi Security Best Practices video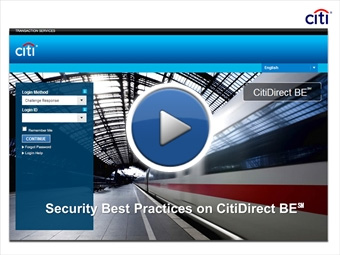 If you can't view the image above, please
click here
.
Citi Client Service Academy is an innovative series of proactive training sessions offering you the opportunity to enhance your knowledge of Citi's systems and products and provide you with a quick help on Frequently Asked Question.
Academy Features:
The Client Academy offers On Demand Online trainings; these pre-recorded training tutorials offer you the convenience and independence of training at your own pace.
On Demand
Whether you are looking for CitiDirect® specific functionality training, other Citi products tutorials or simply need a quick help on a specific topic, you can access On Demand and FAQ "How to" sessions at your fingertips.
To get started click here:
CitiDirect®
CitiDirect BESM
Other Products
Languages
We also offer On Demand Trainings and FAQ "How to" sessions in Spanish, Italian, French and German so please refer to the language links available beside the English On Demand training name. Please note language offering is available only for a selected number of On Demand trainings.
Most Popular
Our new "Most Popular" section will highlight the trainings that have been most used by our clients. This section is updated quarterly to reflect our users' trends.
To get started click here:
CitiDirect® Most Popular
Other Products Most popular
Frequently Asked Questions
Our new FAQ "How to" section combines the reliability of a training with the convenience of a quick "Show me how to" On Demand. This will help you finding the answer you are looking for in a flash!
To get started click here:
CitiDirect® FAQ
Other Products FAQ
Feedback
Please click here to access our survey
Contact us
For any issue on this website, please contact us at: clientservice.academy@citi.com