Citi Client Service Academy
Asia Pacific Region - CitiDirect BESM

Client Service Academy
Slip Sheet (English)
Please take a moment to review Citi Security Best Practices video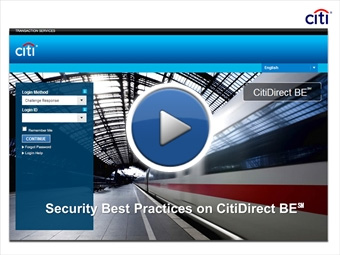 If you can't view the image above, please
click here
.
CitiDirect BESM is the evolution of CitiDirect® Online Banking (CitiDirect). New user-friendly features in CitiDirect BESM include a portal environment and a convenient single log in that gives you oneclick access to multiple applications. The new interface and navigation are more intuitive, and provide a more streamlined and customizable electronic workflow. Moreover, CitiDirect BESM includes all the same CitiDirect functionality and tools you use daily but provide easier access to the key tasks you perform.
For All Users
For MFA Users
Multi-factor login procedure
Key points to note during the login process:
Select "Multi-factor" login method
Press "9" on the Safeword card before completing Challenge Response
Input your temporary password received from mailbox - citidirectbe.notifications@citi.com
For more details regarding login procedures and FAQs, please refer to the following documents:

Getting Started Kit - MFA
Quick Reference Card - MFA Login Steps
Quick Reference Card - Browser Security Settings
For All Other Users
Non Multi-factor login procedures
Please refer to the documents below for login steps:

Getting Started Kit

User Training
To learn how to use CitiDirect BESM effectively, please refer to the following documents:

User Training - Online Video
Comprehensive Payments Guide
Comprehensive Reports & Inquiries Guide
Quick Reference Card - Client Linkage Feature
Quick Reference Card - Creating an Alternate Login ID
SWIFT Payment Information via CitiDirect BE
Service Inquiry Manager
Additional Information
Do note that any user on Internet Explorer 6 must be upgraded to newer versions of Internet Explorer. Please ensure all users have a valid e-mail address associated to their CitiDirect user profile in order to receive further upgrade notifications.
For Security Managers
Security Manager Training
As a Security Manager for your business, you will be able to perform certain important functions on behalf of your users in CitiDirect BESM now. Please find provided links guiding you through the Security Manager functionalities within CitiDirect BESM below:

Security Manager - Online Training
Comprehensive Security Manager Guide
Quick Reference Cards below gives condensed step-by-step instructions of common Security Manager Functions:

Quick Reference Card - Unlocking a Locked User
Quick Reference Card - Regenerate Temporary Password to User
Create New User
CitiDirect BE - Modifying Users, User Groups and User Group Associations Mini Guide
Quick Reference Card - Deleting Users