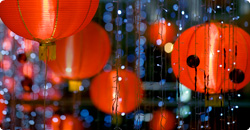 Enter the dragon
It's impossible to ignore the unfolding economic might of China. Earlier this year China overtook Japan as the world's second-largest economy. Only the United States now stands beyond the fast-lengthening shadow of China's vibrant, confident economy.
Not surprisingly, the anxiety of the credit crisis has encouraged many to look beyond their usual boundaries for superior investment fund returns. China is a tantalising prospect for investors as it becomes less an export economy and more domestically orientated.
China today
So where are we today? Many believe the Chinese economy will continue to expand strongly: this year alone the Chinese economy expanded 11.1% year-on-year in the first six months of 2010. Compare that rate with the UK's own 1.2% growth in the last quarter2.
The Chinese continent has a plentiful supply of cheap labour (though the cost of this labour has been rising). However its massive middle class, freed from decades of communist austerity, is increasingly keen to demonstrate its new financial independence. Private car ownership, for example, jumped 34% alone to 24m units in 20093.
On the international front, better relations with nearby Taiwan are helping after a historic Beijing meeting between the two leaders of both countries in 2008. Overall, China's relations with the international community are considerably improved, even compared to just a few short years ago.
Opportunity knocks
China is also in the midst of relaxing the rules by which foreign business invest, after some protectionist concerns. Vice-President Xi Jinping recently claimed the country was taking vigorous steps to ensure that China remains the most appealing destination for investors in the world, encouraging many investors.
Concern about the valuation of the Chinese renminbi – it had been pegged to the US dollar for nearly two years, helping make China's exports ultra-competitive – has also reduced as the Chinese leadership has now allowed its currency to appreciate.
This currency development is good news for existing investors who have seen their funds rise in response; the move is also likely to prove positive for keeping Chinese long-term inflation under control.
Risks versus reward
Of course, large emerging economies like China always carry some risk in the short term. Yes, there has been some volatility in Chinese stocks, however valuations appear broadly reasonable in comparison with where valuations stood at the beginning of the year.
Worries that the Chinese economy might over-heat have also lessened. The Chinese government lowered this probability earlier this year by insisting that its domestic banks hold larger reserves, which means the risk of speculative bubbles has narrowed considerably.
Some volatility in the short to medium term is, of course, inevitable, as with any stock market investment. Yet the long-term investment case for China cannot be overlooked for those wanting a measure of fund exposure to the world's fastest, most dynamic economy.
Of course, being sensible in terms of overall asset allocation is particularly relevant in such a fast-developing economy. Maintaining a well balanced, diversified portfolio is always a sensible approach.
With a wide range of Mutual Funds from leading fund houses, contact your Relationship Manager who can help you make the right choice for your long term investment goals.
2Office of National Statistics, http://www.statistics.gov.uk/cci/nugget.asp?id=192
3Chinese National Bureau of Statistics, http://www.businessweek.com/news/2010-02-25/china-2009-private-car-ownership-jumps-34-to-26-million-units.html
Back to Your Wealth Matters